JCW Search named in 2023 Inc. 5000 Fastest Growing Companies for the sixth consecutive year
16 Aug, 2023
3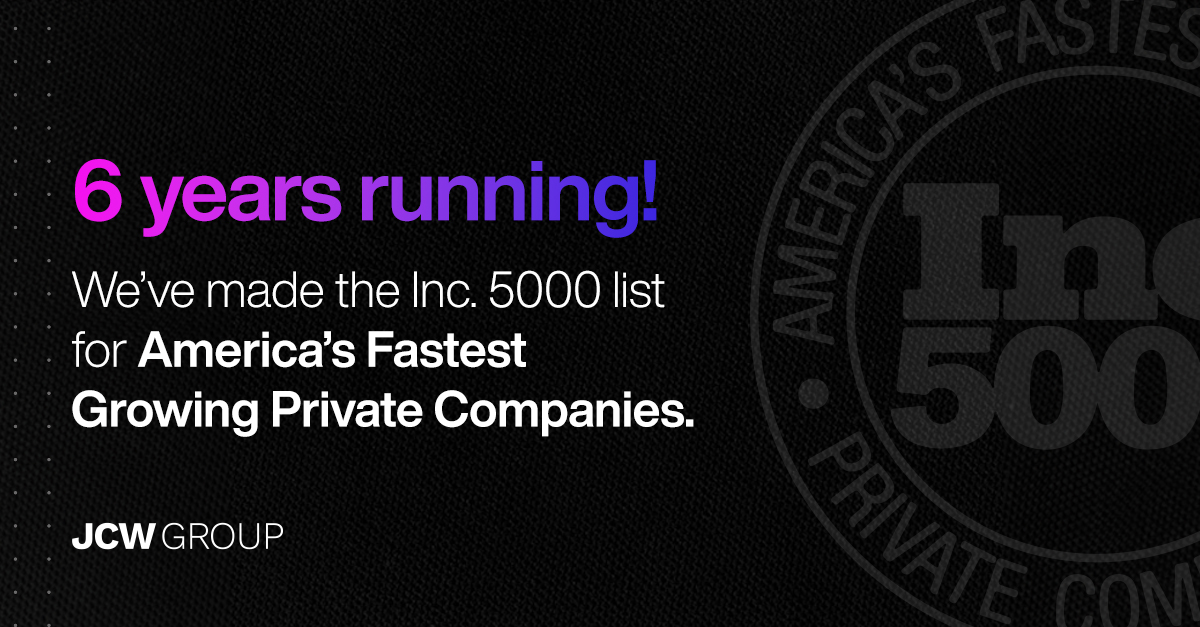 For the 6th Time, JCW makes the Inc. 5000, with a 77% growth over three years.
Inc. revealed today that JCW has been named on the 2023 Inc. 5000, its annual list of the fastest-growing private companies in America. The prestigious ranking provides a data-driven look at the most successful companies within the economy's most dynamic segment—its independent, entrepreneurial businesses.
Since JCW was founded in 2007, the business has expanded to six global locations, four of which are based in the USA. The first US office opened in 2012 in New York and Los Angeles and Austin offices followed before our latest office launched in 2021 in Boston.
Jamie Woods, CEO of JCW Group, said: "I was incredibly proud to once again receive the news that JCW has, for the sixth year running, been recognised by the Inc. 5000 as one of the top 5,000 fastest growing firms in America.
This list represents how JCW has continued to drive rapid revenue growth while navigating what has at times been a very challenging environment. We've an exceptional team here – roll on year 7!"
The Inc. 5000 Fast Growing Companies list was established in 1982 to shine the spotlight on independent small businesses in the U.S. Since then, the list is generated annually of the top 5,000 most successful and fast-growing, private companies within the American Economy. The list is renowned for being a key benchmark for entrepreneurial success.
"Running a business has only gotten harder since the end of the pandemic," says Inc. editor-in-chief Scott Omelianuk. "To make the Inc. 5000—with the fast growth that requires—is truly an accomplishment. Inc. is thrilled to honor the companies that are building our future."
For results of the Inc. 5000, including JCW's full listing, follow the link to the inc. 5000 complete list.