JCW named in Inc. 5000 Fastest Growing Companies for the fifth year in a row
07 Sep, 2022
3 Mins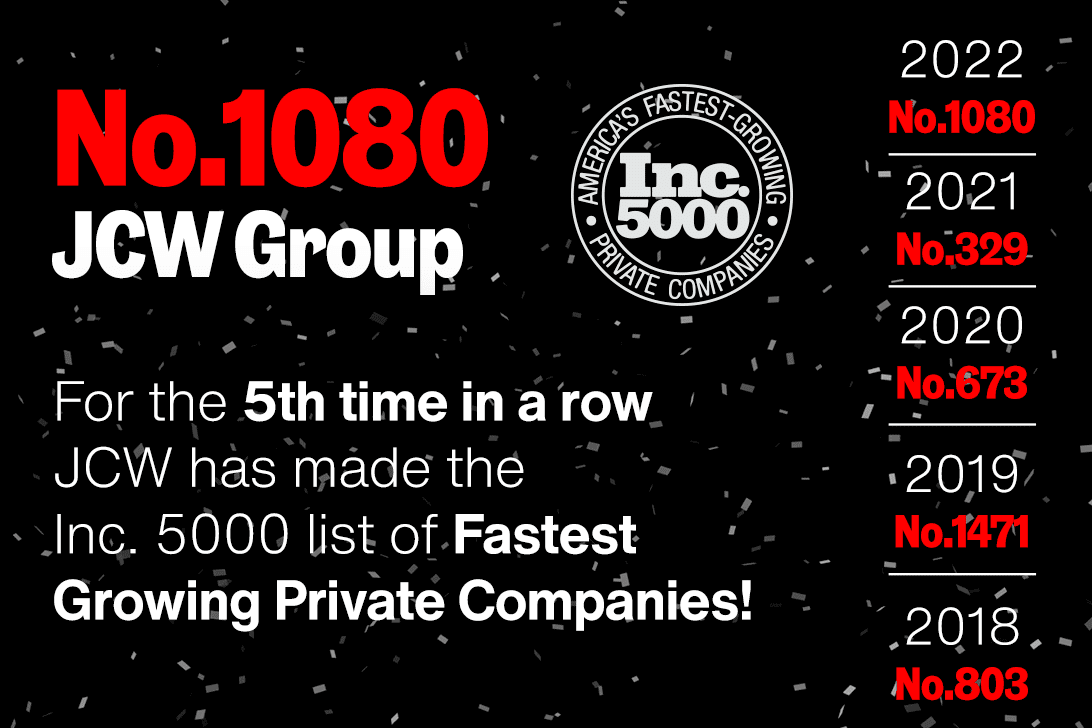 Inc. 5000 have named recruitment firm, JCW in their annual list of the top 5,000 fasting growing companies in America. In 2022, JCW have ranked No. 1,080 overall with a 603% growth over three years. This marks JCW's fifth consecutive appearance on the list.
The Inc. 5000 Fast Growing Companies list was established in 1982 to shine the spotlight on independent small businesses in the U.S. Since then, the list is generated annually of the top 5,000 most successful and fast-growing, private companies within the American Economy. The list is renowned for being a key benchmark for entrepreneurial success.

Following the announcement of the award, JCW CEO Jamie Woods said: "I was incredibly proud to receive the news that JCW has, for the fifth year running, been recognised by the Inc. 5000 as one of the top 5,000 fastest growing firms in the USA.

I am incredibly proud to have our work acknowledged in this way and it's a testament to the team in the U.S. for all the hard work it's taken to consistently grow the business. What's most pleasing to me is that the rate we are growing at says a lot about the trust our clients and candidates have put in us and the high quality of customer service our team continuously delivers."

JCW launched in the U.S in 2012 and since then has provided recruitment services to companies of all shapes and sizes across the globe. JCW has since increased its headcount globally and continues to expand rapidly in America with offices in New York, Boston, Los Angeles, and Austin.

"The accomplishment of building one of the fastest-growing companies in the U.S., in light of recent economic roadblocks, cannot be overstated," says Scott Omelianuk, editor-in-chief of Inc. "Inc. is thrilled to honor the companies that have established themselves through innovation, hard work, and rising to the challenges of today."

See the full list of 2022 Inc. 5000 rankings here.