JCW Group Ranks 329th in the Inc. 5000 Fastest Growing Private Companies List
07 Sep, 2021
3 Mins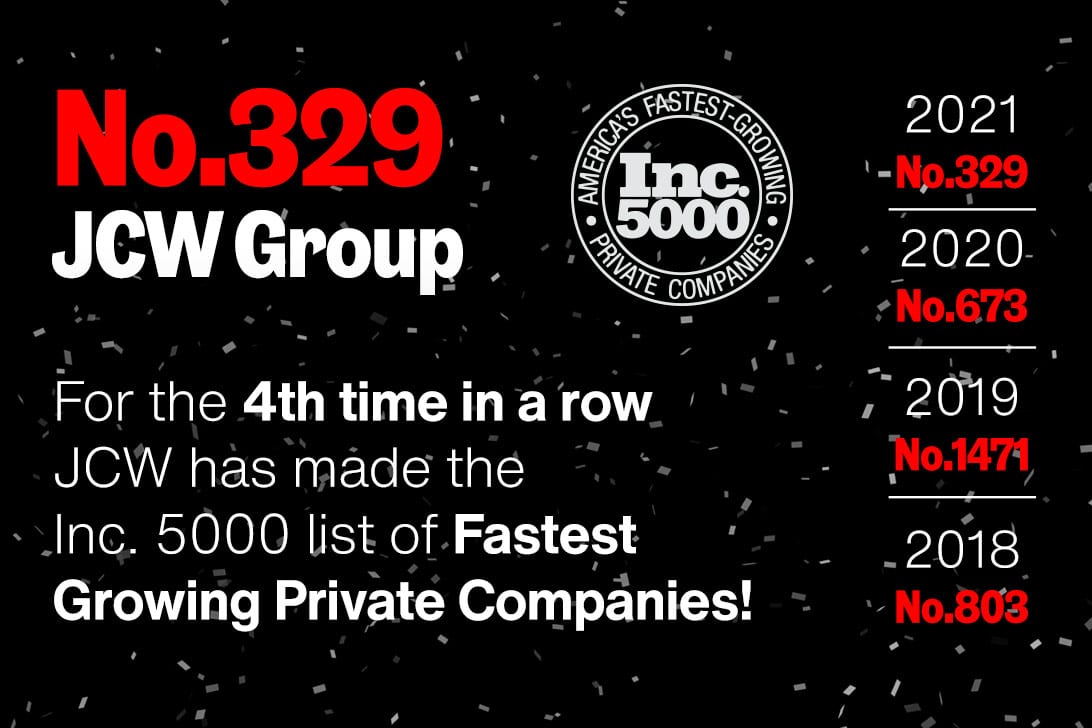 JCW Group Achieves Highest Ever Ranking on Inc. 5000 list
We are delighted to announce that we have ranked No. 329 in Inc. magazine's annual Inc. 5000 list, a ranking of the USA's fastest-growing private companies. The list represents a unique look at the most successful companies within the American economy's most dynamic segment — independent small businesses.
Since JCW was founded in 2007, the business has expanded to 6 global locations, four of which are based in the USA. The first office opened in 2012 in New York and Los Angeles and Austin offices followed before our new office launched earlier this year in Boston.

Consistent, rapid growth has resulted in inclusion on the Inc. 5000 for four consecutive years, with the 2021 listing representing our highest ranking to date with a three-year revenue growth of 1,422%.

JCW Group CEO Jamie Woods said "We're incredibly proud to not just feature on the Inc. 5000 List for the 4th year running, but to do so with our highest-yet growth rate. We believe we've built something special here – not just a business that delivers consistent growth and performance, but one that our people are exceptionally passionate about. Whilst happy about this result we feel as though we're only just getting started – more to come this year.

Not only have the companies on the 2021 Inc. 5000 been very competitive within their markets, but this year's list also proved especially resilient and flexible given 2020's unprecedented challenges. Among the 5,000, the average median three-year growth rate soared to 543 percent, and median revenue reached $11.1 million. Together, those companies added more than 610,000 jobs over the past three years.

"The 2021 Inc. 5000 list feels like one of the most important rosters of companies ever compiled," says Scott Omelianuk, editor-in-chief of Inc. "Building one of the fastest-growing companies in America in any year is a remarkable achievement. Building one in the crisis we've lived through is just plain amazing. This kind of accomplishment comes with hard work, smart pivots, great leadership, and the help of a whole lot of people."

To see JCW's full listing, follow the link to the inc. 5000 site here.