Career Change: A JCW Success Story
08 Aug, 2022
8 Mins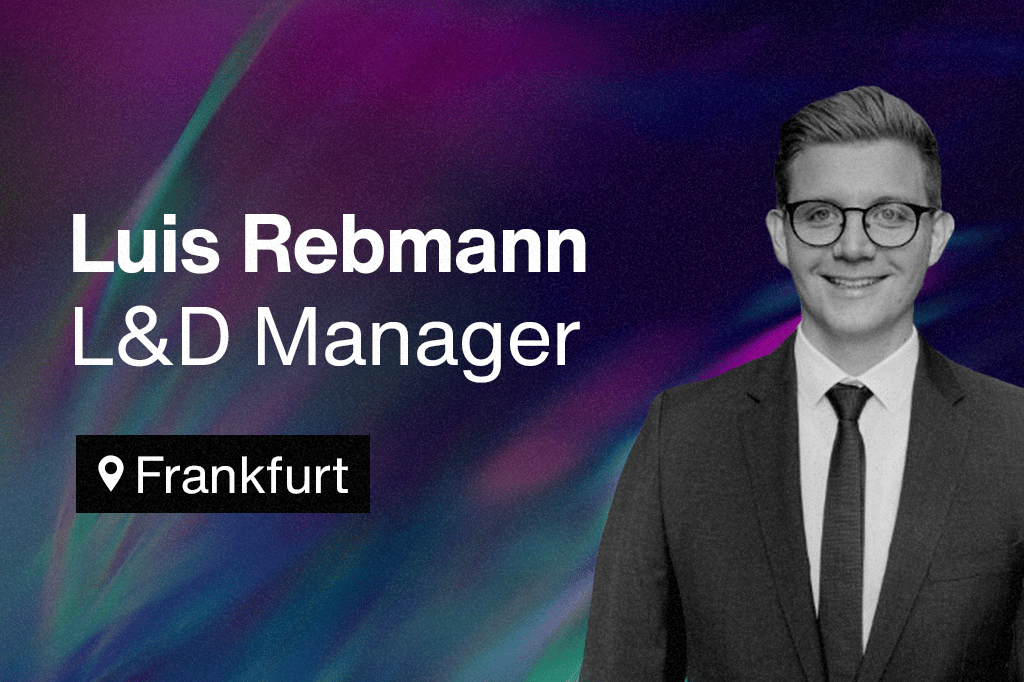 In just three years – and nearly two of those under pandemic restrictions – Luis Rebmann developed from a semi-experienced salesperson into an established global top biller. It's an extraordinary success, driven by his blend of great sales instincts and passion for sharing expertise and experience. And that in turn means that Luis has now moved to become our L&D Manager, based in Frankfurt, having a real and long-term impact on the business.
Looking for more than a job

When he joined us in 2019, Luis was full of enthusiasm and had an outstanding work ethic. He had previously worked in an insurance sales role, but without the guidance, training and processes that he needed to really make a mark. Stuck without that formal support for his career progression, Luis looked for an environment that would support him to realise his potential and provide the structure to succeed.

JCW's Academy is designed to help our associates learn how to work collaboratively with clients and candidates to deliver results. This is exactly what happened for Luis – he was able to see how he could work within processes that are designed to get results and that, alongside his natural sales ability, gave him the opportunity to make the most of his skills.

This training and mentoring is in place across the JCW business, and is part of the reason why we have great engagement and retention. We invest in the success of our people and that in turn results in great service levels for our clients and candidates. We care about getting things right, and that's what has driven Luis's success.

Luis was quickly promoted from Consultant to Senior and through to Principal Consultant, and used the learnings from his training at JCW to turn the particular working circumstances of the pandemic into a tool, becoming our Global Top Biller in his first year. It's an incredible achievement and gave him the impetus to think about how he could use his success to help others – and the business.

Focus on L&D

On the back of further training, Luis started building out his team with people who have since also become senior consultants and are now building their own teams. Having reached top biller, Luis was looking for new challenges and got thinking about how JCW's L&D programme provided him with many of the skills he needed to succeed.

Throughout this period of exceptional growth and success, Luis hasn't forgotten that one of his core principles is sharing expertise and knowledge. In fact, he mentioned becoming a trainer at his very first JCW interview.

Understanding the role of a manager in the development of their team is one of the key characteristics of a successful leader. For Luis, part of the benefit – and responsibility – of promotion to Principal Consultant is the opportunity to develop team members, supporting their own career ambitions and giving them the skills, opportunities and tools to help them reach their goals.

All of this led Luis to the path he's on today. Luis recognised that JCW recognised people as individuals and works with them to find where their particular skillset would best fit in the business. He decided to take advantage of JCW's internal mobility policy and applied for a brand new L&D role.

Luis's dedication to sustainable learning and development was recognised and shortly afterwards he was appointed L&D Manager for our Frankfurt business. Since then, he has been at the forefront of a drive to give his team and the wider business access to the best L&D opportunities.

For a start, he began translating the English JCW Academy materials into German and tweaking for the German market. On the back of Academy L&D projects, Luis's team began winning new business, with each team member landing three new deals, Since then, team members have been promoted, several people have been named as a 'Closing Champion' and he has initiated some 1-2-1 coaching and shadowing sessions to help expand the team's experience and skills.

"Seeing other people's success gives me so much pride," says Luis. "The L&D Academy helps my colleagues, helps the business and contributes to us being a go-to employer. I have had such great experiences at JCW because it has given me the opportunity to grow in a fast-paced environment. That makes it an exciting job for me, and helping my team prosper is a big part of my job satisfaction."

"The people at JCW have supported and encouraged me to build a successful career, and I want to do the same for others."

If you'd like to find out more about what a career at JCW Group could mean for you, check out our careers page.